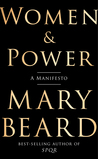 Women & Power: A Manifesto by Mary Beard
My rating: 5 of 5 stars
I received this little gem of a book through one of my yearly subscriptions from Strand Books.
Weaving a thread that connects the lack of women in positions of power to women's roles in ancient Greece provides much fodder for the reasons women today remain the minority in power positions.
From the time of Aristophanes to imagery of a Triumph Trump holding the severed head of a Hillary Medusa, this book-derived-from-a-lecture offers much to consider.
It also challenges us to reconsider why when women speak up, it often takes a man to validate her position and words for us to hear them. Even today.